Get your khaki shorts ready, lace up those boots and put on that safari hat: the Jurassic World exhibition is now open across Square One Shopping Centre! Dinosaurs from your favourite adventurous saga are coming to life, stepping from the screen onto the streets of Mississauga.
You'll get to live your best Alan Grant fantasy as wild leaves and ferns guide the way to an awe-inspiring world where dinos roam freely. Meet raptors, brachiosaurus and the vicious Tyrannosaurus-Rex among other legendary Jurassic giants, and discover the science behind it all at The Creation Lab.
Explore a prehistoric era unlike any other — get tickets to Jurassic World: The Exhibition in Mississauga. 
Life definitely finds a way! What's proof: this brand new Jurassic World experience that just opened in Mississauga. Imposing dinosaurs walking around a venue just a few minutes from Toronto sounds like the stuff of dreams and yet… Gentle giants await across Square One Shopping Centre, from the tree-munching Brachiosaurus to the adorable Bumpy — that sweet Ankylosaurus from Camp Cretaceous. It's Mississauga's very own Isla Nublar, where nothing is impossible.
The best part of this experience is there's nothing to fear. At Jurassic World: The Exhibition, no need to calculate risks of dino assault. Leave your tranquiliser guns at home and simply delight in the awe-inspiring giants! That also means the adventure is ideal for children in search of awe and wonder. Honestly, it's probably what John Hammond envisioned at the beginning of Jurassic Park.
As you step through the wooden gates of Jurassic World, don't be afraid to sing out the legendary theme song or recreate your own "Welcome to Jurassic Park" monologue. After all, this is your experience to create.
If you're a fan of the iconic blockbuster franchise, you're gonna want to check out this thrilling exhibition! Ready for the ultimate trip to Isla Nublar?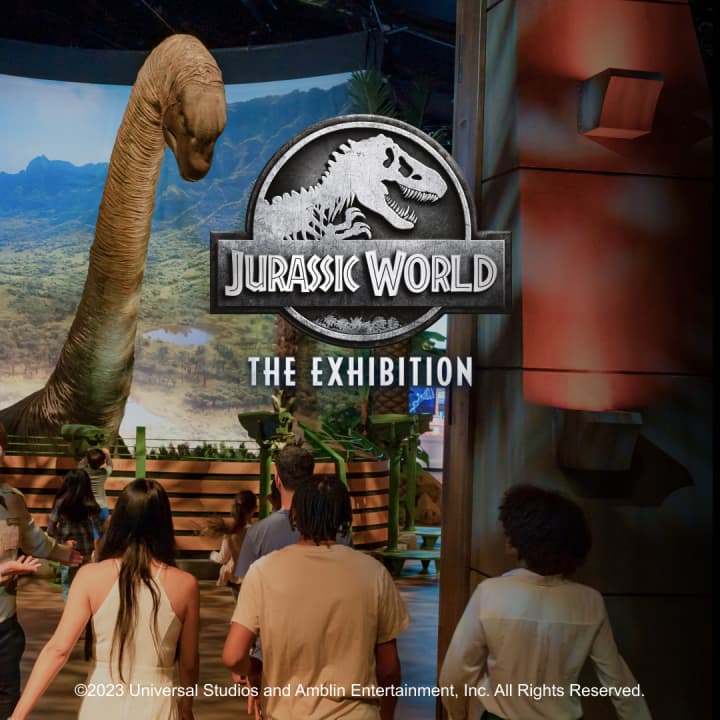 Jurassic World: The Exhibition
---