It's home time again starting tomorrow — but what exactly are the rules?
The Government of Ontario has declared its second state of emergency and issued another province-wide stay-at-home order effective Thursday, January 14, 2021 at 12:01 am to combat the COVID-19 crisis. These new emergency restrictions are set in place for at least 28 days, i.e. until February 11, 2021. Ontario's first state of emergency was declared on March 17, 2020 and remained in effect until July 24, 2020.
The government, in consultation with the Chief Medical Officer of Health and other health experts, has enacted enhanced restrictions and enforcement measures to reduce mobility and address the alarming circumstances at hand, citing a doubling of COVID-19 cases over the past two weeks which could result in a potential collapse of the province's hospital system and alarming risks to long-term care homes.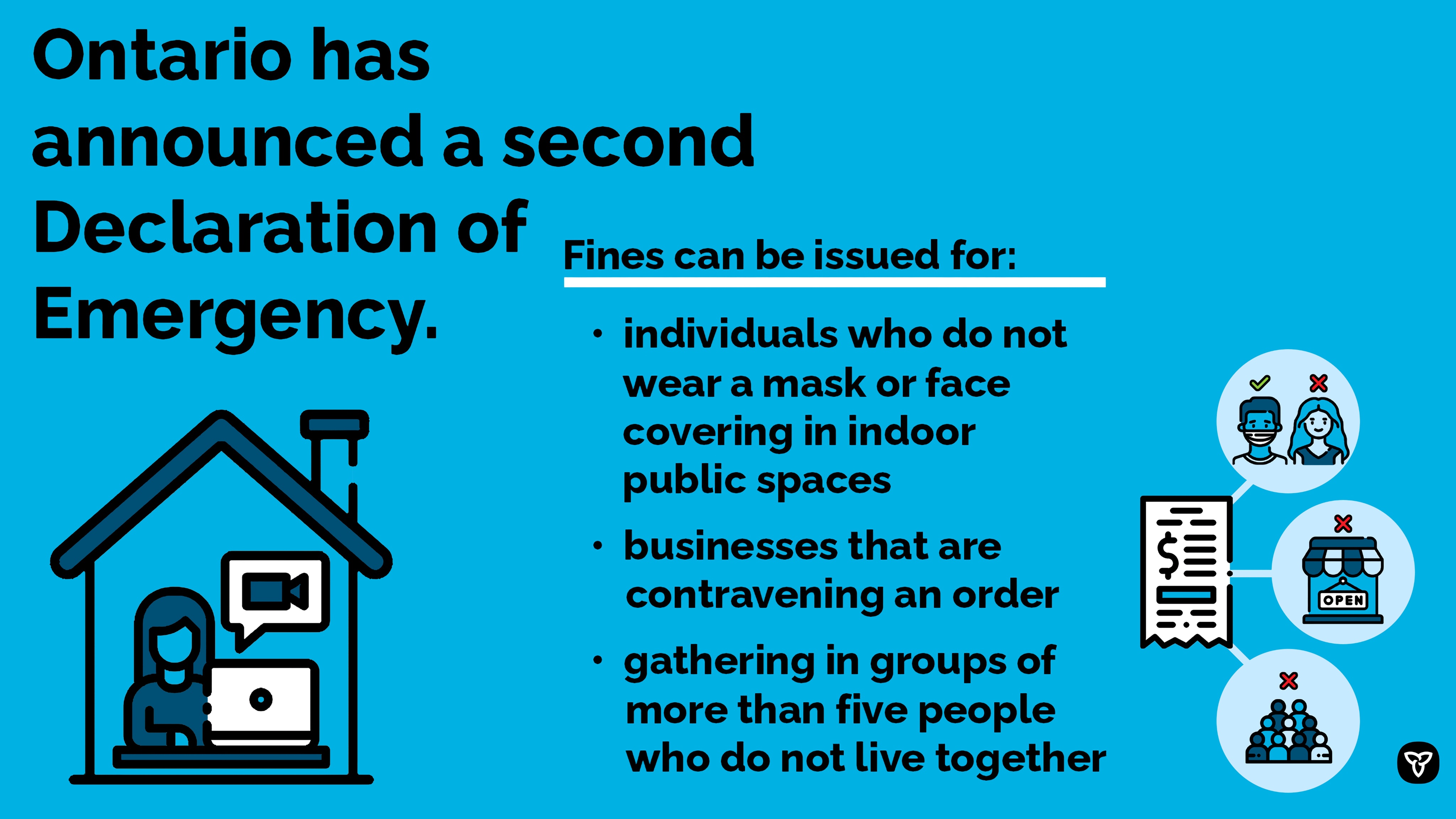 Under the new measures, everyone is required to not leave home for anything other than essential purposes such as going to the grocery store or pharmacy, accessing healthcare services, for exercise, or for essential work — at least, in theory. However, upon reading the full details of the measures, many have expressed bewilderment at parts of the provincial emergency response that seem to contradict each other — see below.
New measures going into effect on Thursday, Jan 14:
Outdoor organized public gatherings and social gatherings are further restricted to a limit of five people with limited exceptions. This is consistent with the rules during the lockdown during the first wave of COVID-19 in spring 2020 and will allow individuals and families to enjoy time outdoors safely.

Individuals are required to wear a mask or face covering in the indoor areas of businesses or organizations that are open. Wearing a mask or face covering is now recommended outdoors when you can't physically distance more than two metres.

All non-essential retail stores, including hardware stores, alcohol retailers, and those offering curbside pickup or delivery, must open no earlier than 7 a.m. and close no later than 8 p.m. The restricted hours of operation do not apply to stores that primarily sell food, pharmacies, gas stations, convenience stores, and restaurants for takeout or delivery.

Non-essential construction is further restricted, including below-grade construction, exempting survey.
The reactions:
Ontario really put "state of emergency" and "close non-essential retail at 8 pm" in the same statement…? pic.twitter.com/3Pqy2qj3RP

— Injeong Yang (she/her) (@yang_injeong) January 12, 2021
As per usual, Ontario's new directives are inherently contradictory. You may only go out for essential purposes. Also, if you go out to pick up your non-essential goods, you only have until 8p.m. pic.twitter.com/flHdQCGsiO

— Robyn Urback (@RobynUrback) January 12, 2021
the Ontario government really issued a state of emergency and stay at home order and then was like 'k so part of the new restrictions to stop the spread of covid is that the liquor store will close at 8 pm instead of 9 pm' 🥴

— nicole☃️ (@blesstherain13) January 12, 2021
Ontario's "new state of emergency and stay-at-home order" pic.twitter.com/WSH8DNVtsI

— Iffat (@empathadvocate) January 12, 2021
State of Emergency for Ontario: "Stay home!"

Also State of Emergency for Ontario: "You can hang out with no more than 5 people from different households outside" pic.twitter.com/FzhJwaE7XQ

— Kris Pangilinan (@KrisReports) January 12, 2021
The Restrictions today vs. New restrictions (on Thursday at 12:01am) in Ontario's State of Emergency pic.twitter.com/LtESnSbhF4

— Alex 💙🍁 (@AlexMaida19) January 12, 2021
trying to figure out what the ontario gov is actually doing differently in this state of emergency pic.twitter.com/5viVeYzjfC

— Scarab (@scarabinspace) January 12, 2021
Ontario: We're going into state of emergency
Also Ontario: But nothing is changing you just might get fined if you don't stay home pic.twitter.com/EQZBvxTGHf

— Jenn Stans Staying Home (@jennstansbury) January 12, 2021
Doug Ford's NEW state of emergency in Ontario lockdown — in a nutshell: "STAY HOME. And I really mean it this time". #Onpoli #FordfailedOntario

— Elise Davis 🇨🇦 (@Elise_ekd) January 12, 2021
Ontario's new "stay at home" order: State of Emergency! non essential? Stay at home!

Also Ontario's new "stay at home order": shop till you drop at non-essential businesses until 8pm. pic.twitter.com/lZiUXfgW79

— Kimberley Elizabeth (@kimmikillzombie) January 12, 2021
Many people are confused by Ontario's new State of Emergency rules. ie. What does a "stay at home" order mean when we can also congregate with any 5 people outside anywhere we want? And when other workplaces are closed, why is condo construction "essential" during a pandemic?

— Josh Matlow (@JoshMatlow) January 12, 2021
Ontario releases an updated State Of Emergency ™ pic.twitter.com/TdSL8RjQXg

— Briän 🏒 (@PuckAndBadJokes) January 12, 2021
Officers in the province will have the authority to issue tickets to anyone who doesn't comply with the stay-at-home order or wear masks or face coverings in indoor places open to the public.
According to provincial figures, there have been 215,782 reported COVID-19 cases and 4,983 related deaths in Ontario as of January 10, 2021. In addition, over 130,000 doses of COVID-19 vaccines have been administered across the province to date. Hopefully the continued vaccine rollout along with the province's emergency measures will help get Ontario on the right track.
[Featured Image Source: Shutterstock]
---