You've never embarked on an adventure quite like this one…
Season 5 of Stranger Things is haunting us. From questioning Max's fate to pondering on Vecna's next move, everything seems up in the air and we'd just love for the Duffer Brothers to get on with it already. Unfortunately, we'll have to wait until next year for the release of the final chapter of the saga. But fear not: there's a thrilling Stranger Things Experience that just opened at Cinespace Marine Terminal Studio, and our little finger tells us it's just as exciting as the show itself. 
You haven't seen anything yet! Grab tickets to the brand new experience to become a part of the show.
You'll be transported to Hawkins in the 80s to become a part of the gang in your own right. No flashlights or talkie-walkies for you, but perhaps even better: superpowers! Your mission at this new Stranger Things experience? Uncover the mysteries behind the Hawkins Lab by harnessing your new powers and save the gang from the grips of the Upside Down. 
The Stranger Things Experience is a brand new journey into the world of our favorite show. And we mean brand new: the extensive storyline was created by the actual show creators. That means, you'll be left guessing what's next at every step of your journey, so pay attention! Demogorgons will be roaming the halls, and Vecna might be waiting for you at every corner.
After you're done literally saving the world (not all heroes wear capes), Mix-Tape will open its doors! At the retro space, you'll find replicas of iconic Stranger Things sets, like the Byers' living room or Palace Arcade. 
Once you beat your best score, there are sundaes at Scoops Ahoy and delectable pies at Surfer Boy Pizza waiting for you. Oh, and if that wasn't enough, you'll even get to enjoy themed cocktails at The Upside bar as you snap a few photos at the photobooth of the experience. Told you it would amount to a new season!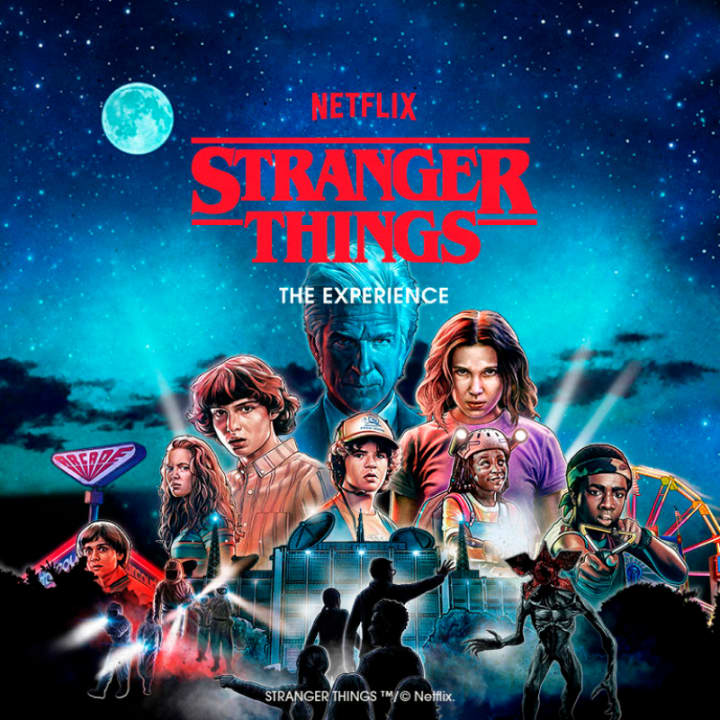 Stranger Things: The Experience - Unlock Your Power!
---